Curious to know how to create effective brand awareness of your digital products? The easy way is blogging. Yes, you heard it right. Constant blogging with relevant and useful content helps to attract potential customers to your digital store. This is possible using the best Magento 2 blog extensions on your website.
Here in this blog, you will get the top Magneto 2 blog extensions to help you boost your online sales effectively. If you haven't tried it, now it's time to try and scale up your online business.
Why should you use a Blog extension for your Magento 2 store?
In the digital world, it's very important to develop a strong web presence. As well as the establishment of good interaction with your customers is also very essential. Here blogging plays a crucial role to help you out. It helps to establish trust, brand awareness and loyalty among your customers.
Fortunately, Magento offers powerful blog extensions that allow creating blog posts to increase your leads drastically. Magento 2 Blog extensions help to introduce your products, offers & deals to your online customers. It attracts customers to remain sticky on your website for a longer duration. In this way, blogging helps to reduce the bounce rate as well as increases sales in your digital Commerce store.
Also Read: 10+ Best Social Login Magento 2 Extensions [Boost Your Website Traffic]
Let's take a round-up of these powerful Magento 2 Blog extensions:
1. Advanced blog: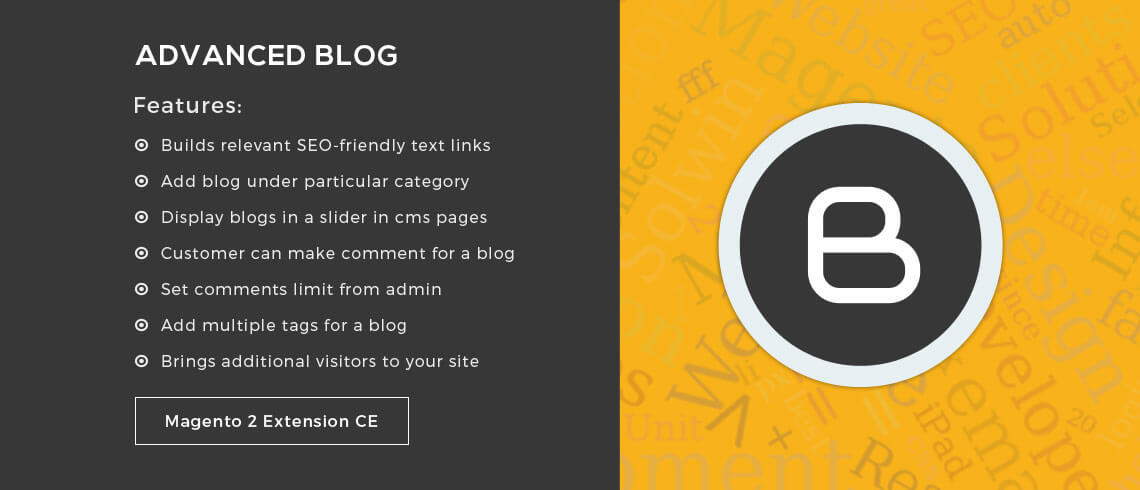 Advanced blog Magento 2 Extension is a powerful and feature-rich module for Magento 2 store. Using this fabulous extension, you can display blogs in sliders on your website. This creates a fantastic option to attract the eyes of visitors magnificently. Also, it enables a wonderful means of communication between customers and store owners.
Further, not only logged-in customers but also guest customers can add a comment on the blog post. They can share their opinion about what they feel. This provides a fantastic medium to find out the liking of customers. Moreover, you get another most excellent feature along with this extension that is it to built SEO friendly text links. That helps to bring organic traffic to your business website.
2. Blog Extension by Landofcoder:
Blogging is a brilliant way to transfer your business and marketing messages to the audience. It also helps you to attract new customers, retain loyal customers and boost your page ranking on Google effectively.
Landofcoder Magento 2 Blog Extension enables you to perform rich content with various layouts. Every post can contain images/videos, customers' comments, tags, author profile, social networks for sharing, and like/dislike buttons. Moreover, the extension supports you to import blogs from WordPress, create multiple importers, open Graph code to improve SEO, and generate Sitemap with ease. Google Rich Snippets code is also supported to show your blog as the best result on any SERP.
3. Blog Extension:
If you are seriously willing to increase more traffic engagement in your online store, this is a perfect option for you. It's very simple and you can install this extension easily.
This Blog Extension for Magento 2, helps to bring customers closer to your products by creating awesome blog posts. Every business owners want to rank their website in the Google Search engine. And this tool allows creating SEO friendly blogs that's gonna drive unlimited traffic in your online store. It comes with many amazing features. You can add attractive images and videos in your blog post. Besides, it also allows users to add a comment. Again to prevent spam comments, you enable the anti-spam checker.
4. Magento 2 Blog:
This is a fantastic Magento 2 blog extension to create blog posts on your online Magento store. Creating a well-structured blog post needs many features to make your post look more impressive and eye-catchy. This excellent module is endowed with all the requirements to set a professional blog without any effort. It comes with features such as DISQUS integration, SEO settings, GraphQL support, and more. All these features are sure to help present your blog post with appealing layouts.
5. Blog Pro by Amasty:
Are you willing to present the latest information about your product or service to get more engagement? If yes, take a long breath, because here you are getting your desired solution. Blog Pro by Amasty is a fantastic module that is bundled with many features to create a professional blog easily. This excellent extension also offers social sharing facility. Thus, your users can easily share your blogs on Facebook, Twitter, etc. That acts as a plus point to get more traffic from social media sites. Further, you can also customize the blog layout as per your requirement.
6. Blog Extension by Webkul:
This is a fabulous Blog extension for Magento 2 store. It allows a customer not only to add a blog but also comment. After getting approval from the admin, the blog/comment gets displayed on the website. Also, the customer can edit or delete the post whenever they want. At the same time, the admin can allow or restrict any customer to write blogs. It will naturally help to establish a good user-experience between a customer and a store owner. Importantly, it will drive more customer engagement on your website.
Also Read: Top Free Magento 2 Themes And Extensions For Your Magento Store
7. Blog Extension by CMS Mart:
This Magento 2 blog extension enables you to make a feature-rich blog post for your digital store. You can easily create unlimited blog posts for your project. It's packed with so many features such as social media share, display related posts & products, and more. Further, this extension comes with 3 types of blog pages; one column, two columns and three columns. The easy content navigation through tags and categories creates a user-friendly interface for the customer allowing them to browse comfortably.
8. Blog Pro by Ulmod
Blog pro is again another tool to create unlimited blog posts with 5 attractive page layouts. You can use this Magento 2 blog extension as a widget and insert it anywhere on your web page. To navigate from one post to the other just click the next & previous post links. Overall, it's a super handy Magento 2 blog extension to use and manage.
9. Simple Blog:
Simple Blog is an effective Magento 2 Extension to increase your store revenue. With the help of this fabulous tool, you can create blog posts for your online customers to generate more engagement. It gives an easy means to keep your clients connected with your store's latest products, offers, and deals.
10. Blog Extension By Magezon:
This is again one more reliable tool that you can install in your Magento 2 store. This Magento 2 extension provides exclusive blogging features needed for your website. Creating a most amazing blog post using this module can deliberately attract more audiences to your digital store. Customize your blog page more stunningly with it's unique and beautiful layouts. It gives better navigation for customers to read different blog categories. Also, get advanced SEO performance and multi-language support.
11. Magento 2 Blog Extension by Pixlogix:
If you are still on the look for a better blog extension, get this Magento 2 Blog extension by Pixlogix. This blog module supports multiple languages, so no matter where your reader comes from. The best search functionality allows users to find different blog pages that they are searching for. Besides, this Magento 2module is packed with lots of more features such as SEO friendly blog, social share, blog comment, etc.
Conclusion:
Blogging is the most important activity to expose your online business among customers. It generates numbers of engagement and enhances sales tremendously in the business.
Now, this is your turn to execute the power of blogging using these Magento 2 blog extensions. Choose the best one from the list that matches your needs to improve the revenue of your Magento 2 store at the speed of light. However, if you have any suggestion please feel free to put it down below in the comment section.
Related Posts