Do you know how important it is to manage customers' data in your Magento 2 store? It's a crucial part in order to develop and progress your eCommerce business. It offers powerful Magento 2 customer data management extensions to help you out.
Managing your customer data can give you a good analyzing power to understand your customers' needs. You will get to know what your customer wants and accordingly provide them the right solution. Don't you feel it's a good idea to win your customer's satisfaction? If you feel yes, try out these following Magento 2 Extensions:
1. Customer Attribute:
Customer Attribute is a powerful extension for your Magento 2 store. It allows adding additional attributes to collect more information about your online customer. Admin can add more fields on the customer account register page, customer account edit page and admin manage customers.
The more data you get from your customer the better you will able to understand their needs. It will help you suggest the best option for their project. Therefore this a helpful tool for both customers as well as store owners. The store owner will get sales and customers get a better solution.
2. Most Viewed Products: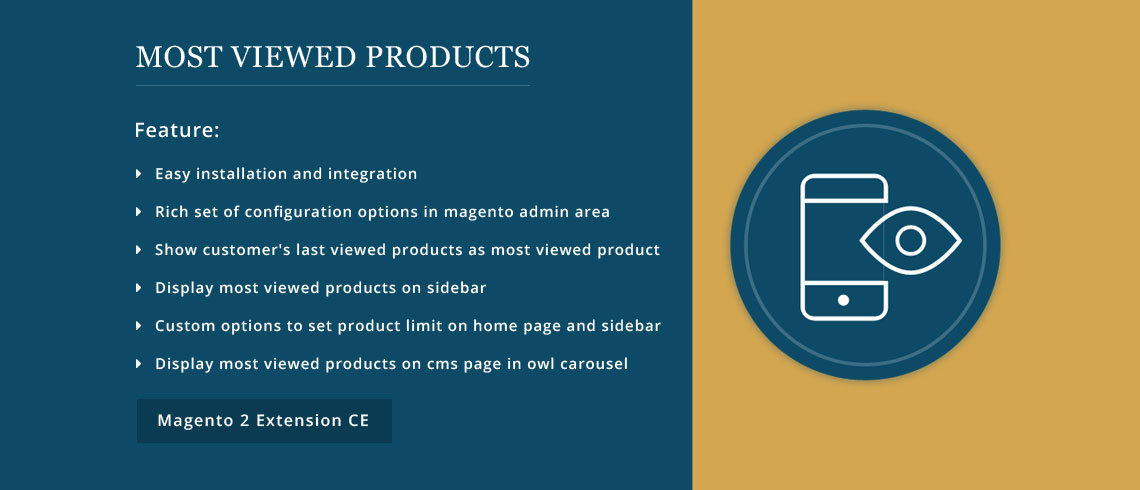 Most Viewed Products is the best tool to showcase the most popular products in your e-Store. It helps to drive visitors' attention quickly and easily to your eCommerce website.
This extension allows displaying most viewed products in a grid layout with attractive thumbnails of products. And to make it even more attractive, it allows displaying most viewed products with slider navigation arrows. Visitors can directly add any products to Cart, Wishlist or compare from Most Viewed Product blog on the home-page.
As per report customers like to see most viewed products while shopping online. They prefer to buy products more easily from the most viewed product list. Hence, using this extension you will gain more sales engagement on your online Magento 2 store.
3. Advanced Newsletter Popup:
Advanced Newsletter Popup plays a key role to market your brand or services to your clients. Using this extension you can easily promote your products, store news, offer to your clients. It displays Newsletter popup when a visitor visits your website with a custom field and custom message.
It's a perfect tool for store owners to drive maximum sales. Whenever a new visitor visits your site it displays a one-time per user popup window with a newsletter subscription form. Store owners can easily customize the newsletter popup with a custom title, message, subscribe button, colorful background, etc. It helps to increase your newsletter subscribers and improve your sales dramatically.
4. Customer Feedback:
Customer Feedback Magento 2 Extension plays a great role in your eCommerce business. Feedback of customers helps to measure whether your products are satisfying your clients or not. You can understand their like and dislike. So, it helps you to make the required modification or improve product quality.
It allows adding a floating 'Feedback' button and a fully functional feedback form on every page of your website. Store owners can set Feedback form in the left, right, top or bottom position of your website. Also, allows you to add Google ReCaptcha functionality to protect your site from spam.
5. Most Viewed and Sold Product Count:
If you are looking for the best tool to drive your visitor's attention to buy your product. You must add Most Viewed and Sold Product Count extension in your Magento 2 store. Visitors always like to purchase the products which are at the top-selling position.
This module improves your store's credibility by displaying the most viewed products and most sold products count. By exposing real-time count will increase the value and demand of your store products extremely. It encourages visitors to buy your products quickly and effortlessly.
Also Read: Top Magento 2 Newsletter Extensions [Get More Sales]
6. Ajax Newsletter:
Ajax Newsletter Magento 2 extension helps your visitors to subscribe newsletter on your site. This module provides a satisfying solution for eCommerce. It doesn't get reloaded when a customer subscribes to an email newsletter by providing his email. Generally, when a customer subscribes to an email the website gets refresh which makes your customers feel uncomfortable.
It's easy to use and manage module that allows store owners to set the delay time of popup window appearance. It will help you drive more sales for your eCommerce website effectively.
7. Advanced Testimonials:
Advanced Testimonials Magento 2 extension is a powerful module to strengthen your store branding. The customers can share their personal experience in the form of testimony about the product which they have purchased. Testimonials improve the credibility of your business. It's very important for the success of an online store. It will easily develop trust in the mind of your audience and help your business grow profusely.
This extension also allows users to add videos and images for each testimonial. Store owners can add reCaptcha option to avoid spam testimonials. It will improve your store's usability and performance to a greater extent.
8. Follow Up Email For Magento 2:
Follow Up Email is a smart marketing tool that increases the conversion ratio and helps in generating sales volume. By taking follow-ups of your customers you can develop a good relationship with them. Get a good opportunity to interact with them and it helps to boost your store sales.
This extension allows creating email templates based on wishlists, previous orders, customer birthday and so on. Store owners can promote hot deals, store offers or new product launches with the help of this extension. It also allows store owners to automatically generate an email and send it to their target customers effectively.

9. Customer Segmentation for Magento 2
Customer Segmentation allows store owners to sort customers by various criteria like sales history, buying behavior and other details. It's a good practice to manage your online customer. It allows store owners to create flexible segmentation rules to arrange registered customers and guest visitors in groups. This module is a wonderful data management tool for Magento 2 store.
10. Magento 2 Customer Approval:

This is a powerful module for acceptance or rejection of new customers' account registration. With the help of this extension, admin can set up acceptance of registration of new customers both manually as well as automatically. If automatically approval is set up, then the later admin can also update or make modifications.
11. Custom Order Number for Magento 2:
Are you facing issues with random order numbers for your Magento store? Worry not! Custom Order Number Magento 2 Extension will help you in it. It set up a custom number for the store's order numbers. You can customize the numbers using a flexible number system. The extension allows changing the order number with a specific number start, increment intervals, and number padding. You can also reset it automatically with a specific time period. The extension provides you to configure the invoice, shipment, and credit memo document IDs also.
Also Read: 10+ Best Social Login Magento 2 Extensions [Boost Your Website Traffic]
In Conclusion:
Customer data helps to understand the insight of customers' behavior and their business needs. However, providing relevant products/services in time helps to build a better eCommerce relationship. In this cut-throat competition of online business, you need to measure your customer requirements. It will help you leverage your business growth.
Related Posts