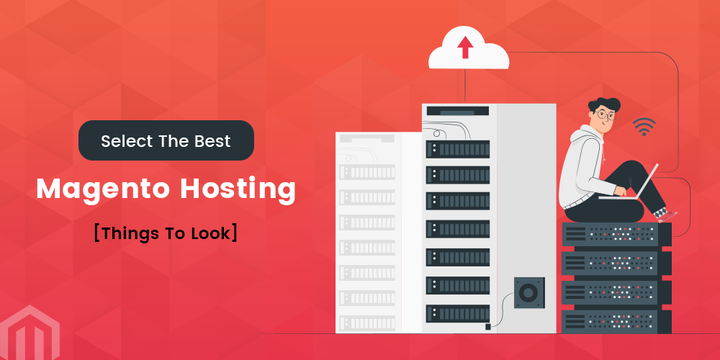 Are you planning to build a Magento store? Do you need help with Magento eCommerce website hosting? If you want to host your store, you need the best Magento 2 hosting provider. A solid hosting service provider ensures that your website will work well even at the time of traffic spikes.
You need to choose a powerful hosting service provider to minimize the server downtime. There are many service providers but you need to pick the best Magento hosting provider to help you achieve your business goals. Not every hosting provider would be able to cater to your business requirements and hence, you need to make sure that the one you choose matches your business needs.
Here are some tips and tricks to help you choose the best Magento hosting provider:
1. Know your exact website requirements
Before you start looking for Magento hosting providers, you should determine your website requirements. Determine the amount of traffic it receives. Identify the amount of traffic at normal and peak times.
Choosing the hosting provider as per the number of products and types of products can be a good idea. Further, figure out the location of the user-base and select the closest possible server location. Experts advise eCommerce website owners to go for low latency to improve the SEO rankings and enhance user experience.
2. Types of hosting
You can choose a managed or self-service hosting plan depending on your exact business requirements. If you opt for managed hosting, the provider will take care of maintenance and configuration of the website, security, fixing server related issues, and applying OS updates. Self-service hosting would require you to run the server or you can hire a third-party team.
3. Types of servers
Three major types of servers are: Dedicated, shared or cloud. Dedicated servers may be an expensive option, but it ensures that you will be the sole user of the server, and hence, it ensures maximum performance. If you need a high loading Magento store, you may choose a dedicated server as it would ensure top speed, handle a large catalog of products, and support traffic surge also.
The shared server includes limited speed and disk space. You cannot customize or change the server settings as you would be sharing the server with other website owners. If you are looking for a cost-effective hosting solution, shared hosting can definitely help you save a lot of money.
The cloud server is a virtualized machine sold by internet hosting providers. You would have complete access to the software update. Such types of servers are similar to dedicated servers, but they offer scalable features and virtualization.
4. Security
Security is an important concern for eCommerce websites and portals as they deal with a lot of sensitive information such as customers' personal information, credit card details, and other confidential data.
With more and more stores getting attacked by hackers, it is essential to pay attention to the security of your Magento website. Make sure that you choose the best Magento hosting solution that provides all the major security measures such as dedicated firewalls, SSL certificates, IP whitelisting, 2-factor authentication, and more.
5. Performance and uptime
Nobody would like that the Magento site goes offline because of poor hosting. It is essential to choose a hosting provider that ensures 99.99% uptime as no one can guarantee 100% uptime for a website. Some Magento hosting providers advertise 99.99% uptime. You can choose such providers to make sure that your site is up.
Also Read: How To Increase Average Time Spent On Your Website (7 Secrets)
6. Compatibility
One needs to make sure that Magento's hosting requirements match the provider. For example, The newest version of Magento recommends using PHP 7.0 or higher. Find out whether the hosting company you are planning to work with is capable of supporting the latest versions of Magento or not.
7. Speed
A slow-loading website can hamper your online sales. It is essential to ensure that Magento hosting provider you select ensures maximum speed for your online store. So, ask the providers whether the server can handle overloads.
8. Technical support
Let's face it. No matter what hosting plan you choose, you may need technical help for the hosting at some point in time. If your website experiences downtime issues, you may need immediate help and support. Make sure that you choose the right Magento hosting provider to provide 24 X 7 support to website owners.
9. Client reviews
It can be a good idea to check the ratings and customer reviews to find out the authenticity of the hosting provider. Search on Google for the client testimonials so that you can find out how many satisfied and unsatisfied customers the company has.
10. Pricing
Pricing is an important factor to consider while choosing a hosting provider for your Magento store. Compare the pricing models with a few leading and reliable companies and make the right decision. Make sure that you select the best Magento eCommerce hosting plan that helps you get the maximum ROI in the long run.
11. Scalability
Note that as your business grows, you may need to scale up your hosting plan. If there is a growth in traffic, an increase in the number of products, you may have to scale up your hosting solution. Talk to the experts and ensure that the hosting plan you select is scalable to meet the future needs of your Magento store.
Also Read: 14 Smart Ways To Optimize ECommerce Conversion Rate
Wrap Up
No matter what your requirements may be, make sure that you talk to a few providers and select the best hosting plan for your Magento eCommerce store. The best Magento hosting provider will help you make your business easier and deliver a great user experience. With the right Magento hosting plan, you can enjoy greater profits. Think about it!
Related Posts