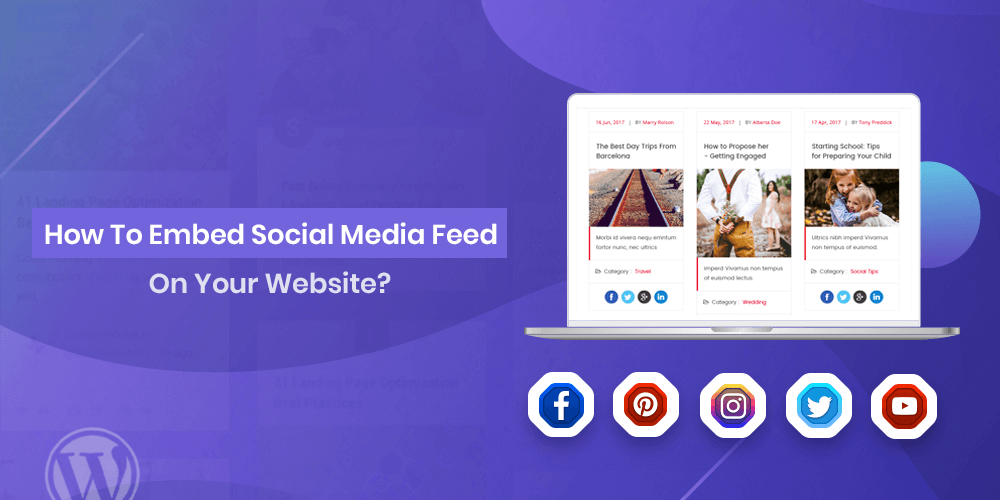 Embedding social media is a method to display social media profiles and posts on your website. By showcasing social media presence you can boost the engagement of your users on your website. Moreover, you can use it to built-up your social media accounts interest. There are various ways to embed social media feed on the website by using a widget or adding a code.
Make sure all of your customers or visitors are aware of your social media presence. Social media grants you to connect with your customers in different meaningful ways. However, if customers do not know about your social media existence, then having a presence on those platforms is meaningless.
Nowadays, not connecting social media with your website makes your brand or company unprofessional or old fashioned. In addition to this, the effective and simple way to create a stronger online following is to embed Facebook, Instagram, Twitter.
What is embedding?
Embedding is the integration of images, videos, links,, and many other digital media into social media websites and posts. The biggest advantage of embedding is containing a visual element on social media posts to encourage visitors for clicks.
Furthermore, embedding works great in the other way by embedding links to your social media on your company's website.
Why is embedding effective?
First of all, embedding your social media into your website serves various purposes, enhancing user engagement is on the top. Second of all, embedding boosts credibility to your business by giving an opportunity to consumers for engaging directly with your brand. Finally, it systematizes your social media in one place, creating the various channels smoothly to manage as well as monitor.
Furthermore, a high bounce rate indicates unengaging content but embedding social media reduces the bounce rate. Embedded social media widgets can increase the time visitors spend on your website by offering them more content to engage with.
How to embed social media feeds?
The action for embedding a feed and profile on your site involves creating a widget and downloading HTML code on your website's code. Creating widget and feed plugin will be different and literally depend on what kind of platform you are looking for.
If you have a general understanding of website coding then the process becomes smooth and simple. Moreover, if you are working with a WordPress website, you can use various widgets provided by various companies.
1. Facebook
Approximately, more than two billion individuals use Facebook every month. Many people like to find company websites on Facebook, it is a great idea to create a bridge between your digital leads and social followers.
From posts to feeds and recommendations, you can make known visitors to your more social side without leaving your site. Unlike other social media websites, Facebook provides a plugin generator for embedding your profile on your website.
Here is how to embed Facebook feed using Page Plugin.
1. Enter your Facebook Page URL
2. Set width and height parameters
3. Click Get Code
4. Click Get Code, and Facebook provides JavaScript and HTML code for you to input on your website.
2. Instagram
Instagram does not support users with a plug-in generator such as Facebook. However, Instagram just provides instructions for users on embedding a singular post.
If you want to embed a whole Instagram profile or feed then you have to work with a third-party solution. You may have an embedding tool for Instagram already created literally depending on which web host you are using.
There are different tools that help you to insert your Instagram feed on your website. For instance, InstaWidget is one of the various resources that small company owners can use. In addition to this, it works the same as Facebook's plugin generator. Insert your Instagram username, toggle the sizing and features as well as copy the code. The other solutions are LightWidget and SnapWidget.
Many of these tools are 100% free to use although may come with limitations or drawbacks. In contrast, you can upgrade various free plans for below 15$. Research your options deliberately to search for an outstanding solution for you. Nevertheless which tools you use, containing your Instagram feed on your website can help boost sales.
Instagram is a popular platform, though it is important to carry its original purpose in your mind. In addition to this, Instagram was built to share visual images that's why to make sure your Instagram profile performs as best as it can.
Useful Read: Best Video WordPress Plugins For Better User Engagement
3. Twitter
Embedding a Twitter feed involves building a widget on the profile of your business. There is no generator, you just simply go into settings and create a widget then copy and paste the code.
The overall process is – Click your profile picture in the top right > Settings and Privacy > Widgets > Create New.
Afterward, Twitter will ask you that if you want to build a widget that embeds a profile, collection, search list, and likes. It relies on what you click, enters the Twitter URL, and then follows the instructions on your screen. You need to click the "Copy Code" to add the widget to your website.
4. Pinterest
Pinterest provides the user with a widget creator, that is the reason you can follow the site's instructions to get code for your business's website. You have the option to create a save or follow button, pin, board, and profile.
When you input your Pinterest board URL and adjust the proper size and then the code will be ready to use for your website.
The finest tools to embed social media feed for your website
In addition to embedding social feeds on your own, you can work with other companies to demonstrate your social media feeds in different places on your website. Companies will add social feeds to your website, and you have to keep them with the latest information and make sure that your feeds remain smooth and natural as your website modifies.
The most popular embedding tools:
1) Social Stream Designer – Social Stream Designer is an amazing WordPress plugin that permits you to integrate your social media feed on your website from different platforms like Facebook, Twitter, Instagram, LinkedIn, Pinterest, RSS, and various others.
It provides you with a wonderful responsive wall on your WordPress website or blog in a moment.
This social stream plugin supports 6 most eminent layout styles including Grid, List, Masonry, Horizontal Slider, Vertical Slider as well as Timeline to create an attractive social media feed on the website.
This plugin gives a number of customization options for designs and styles. And more than 40 options available for you to customize your website. You have to pay just $19.
2) Juicer – It offers various pricing plans. Moreover, the free plan supports 2 source accounts however, you can combine 15 source accounts by paying $99 per month.
3) Taggbox – It is a social media aggregator, which means it clusters your social media into one feed to make them smoother to manage. Taggbox determines to embed. And, its website plan starts at $19 per month.
4) Curator – Other social media aggregators that you will use to embed your feed. It offers many pricing plans, starts with a free plan that supports 3 feeds but you can support 15 feeds by paying $200 per month. Custom plans are also available to customers.
5) Embed Social – It provides various engagement-driving features such as feed aggregator, review collection, and photo syncing. More than one plan is available for all features. Feed embedding starts at $29 per month by providing 3 sources and up to $99 per month for 15 sources.
Also Read: Powerful Video Marketing Strategy To Boost Your Sales
Final Thought
Embedding social media profiles and feeds into your website will help you to confirm your web presence and strengthen interactions with your customers. Being a small enterprise, joining with web visitors is what can separate your business from a larger company.
By containing social media feeds, you have to make sure that valuable consumers are familiar with your online presence.
Please drop a comment, or let us know if we forget to mention an important point in this blog!
Related Posts