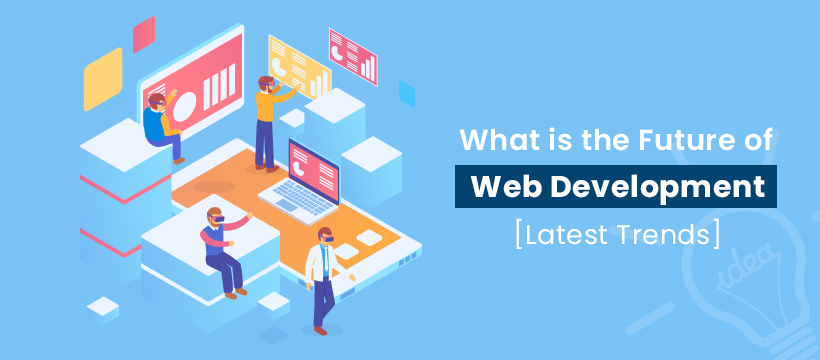 The thriving web world has over 1.8B websites and less than 200 million active websites to date. Every day hundreds of thousands of new websites are added to intensify the competition.
If you want to make your business website noticeable among all the active websites. Then, you need to implement innovative ideas and follow the latest web technology. It is inevitable for web developers to keep the latest web development trends in mind while developing an enterprise-grade website.
After a lot of brainstorming, we have gathered the most precise predictions about the future web development trends for 2021 and beyond.
Here we mention the top 20+ futuristic trends as a gist of collective thoughts of our experienced web developers:
1. AMP is a new norm
The responsive web design approach is in vogue since 2015 when Google has started giving more importance to mobile-friendly websites.
As per the February 2017 report from Adobe, Accelerated Mobile Pages (AMP) are accounted for 7 percent of all web traffic for USA's top publishers.
Yes, this Google-sponsored open-source project has gained ground with the support of Bing, Pinterest, and Twitter.
AMP is designed to enhance the overall performance of web content and ads while improving website speed and user experience. It works seamlessly and people have started liking it. In a way, it is fair to mention that AMP is here to stay.
2. The arrival of Progressive Web Apps (PWA)
When it comes to bringing the best of mobile sites and native apps by leveraging technological advancements, Progressive Web Apps (PWA) appear like a great concept.
It is based on the Internet evolution and adoption of HTML 5. You can provide the same functionality and flawless user experience to native apps with the help of PWAs.
The eCommerce giant Flipkart has introduced PWA and witnessed a 70 percent increase in conversions. Here is a Flipkart's case study that shows the impact of PWA in the online business.
3. Chatbots rock
How about giving your online support a chatbot advantage?
As per the research report of NewVoiceMedia, the US companies lose around $62 million every year due to poor customer services.
Chatbots can address customer support requirements quite effectively and you can count on bots for 24/7 assistance. There is no need to hire a full-time online customer service representative.
4. Push notifications prevail
Just like mobile apps, websites with push notifications can help you to reach a vast audience and leverage the benefits of online marketing. Push notifications are one of the most powerful solutions for engaging visitors and customers. However, you need to stay away from overusing them. You can inform your customers about special discounts. The company's customer-centric activities, and the like with the help of push notifications.
5. Static websites do not go anywhere
Yes, dynamic websites are quickly outpacing their static counterparts. But, it does not mean that static websites are dead. Actually, as we witness exponential growth in the number of websites in the web world, only simple and straightforward websites with a quick load time will succeed. Static websites can serve these objectives and provide a cost-effective option to business owners. However, the web design should be engaging and interesting for the customers.
6. 360-degree Video
Due to the technology enhancement 360-degree video has become the most popular thing in the web world nowadays. Moreover, generally, companies' websites display 360-degree videos because most of the time visitors love to see them.
If you have enough and sufficient experience in VR technology, it will be very easy to develop a 360-degree video experience. Some of the skillsets wanted in the VR developer would be software engineering, 3D design, video, and sound creation as well as video game development.
The final aim is to provide high-tech features to your visitors. That is the reason, as a web developer, you have to build skills and experience in the latest and modern technology. In addition to this, it helps to boost your brand awareness.
7. RAIL concept on the rise
Response Animation Idle Load (RAIL) designing concept is here since 2015. But, now we can expect that it will thrive in 2021. The concept is associated with a faster load time (under 1 second) and the excellent performance of the website.
It focuses on a pleasant user experience. A Smashing Magazine article has revealed that RAIL breaks down UX into tap, drag, scroll, etc. actions and provides performance goals along with a structure necessary for better performance. In brief, the RAIL concept is useful for web designers who follow the user-centric approach.
8. Motion UI is ready to reign
Yes, today's web users want everything simple yet intuitive. Enter Motion UI. It can differentiate the design even with a minimalistic website with an elegant and useful interface. All it requires thorough research and proper implementation to work wonders for increasing the conversion rate on your website.
Motion UI includes animated charts, hovers, background animations, and beautiful headers. You can stand your website out from the crowd with the help of motion UI.
9. Browser extensions will be more popular
Google Chrome extensions are much in demand these days and a massive article titled 20 Best Google Chrome Extensions To Make Your Life Easier proves it! But then, people have started considering browser extensions as a threat to their privacy. This is because such extensions can read a lot of the online activities of the user with the help of various permissions. If you want to come up with the most useful extension, you need to take care of privacy protection.
10. GIF
GIFs are already trending on social media, but now it trends on the website even more. Web designers are trying to make websites more attractive as most visitors nowadays have very little attention spans.
First of all the idea would be to have videos on the website, but it badly affects the loading time. On the other side, GIF can provide an amazing alternative for your website.
They are lighter compared to videos but it still properly attracts and holds the attention of the visitors for a moment. Moreover, it is also best suited to a single-page site as well as mobile views.
So, GIF is one of the top 10 web practices for the year 2021.
11. VR and AR
VR and AR are futuristic technologies that are capable of changing the ways of interaction with websites. Companies like Google, Samsung, and Microsoft are investing a huge amount in these technologies. You can offer an immersive experience of the virtual world to the users with the help of VR.


On the other hand, AR shows a glimpse of a virtual world in the real world while enhancing the user experience. Now both these technologies are not limited to mobile apps. It is expected that their collective market size would worth USD 215 billion by 2021

12. Single Page Applications (SPAs) will thrive
Nowadays, most websites do not require to have various web pages as well as financial content added to them. However, it will make more sense to have a website that is simple and straightforward.
On the contrary, that is not the main goal behind it. It is more about being a mobile-responsive web development. In addition to this, single-page sites are effective for mobile screens. The visitors can scroll up and down and smoothly get the information they wanted to know on a single page.
You did not need menus that can complicate the browser experience. If you have an ECommerce website then you probably find that it is beneficial to design, and it also makes loading time faster.
Single-page and static website designs are attractive topics in 2020. And more companies are accepting them to balance the cost as well as provide fast information to the visitors.
Facebook, Gmail, and Github are highly popular examples of Single-Page Applications (SPAs). A SPA eliminates the requirement of reloading the web page when in use by loading all the content through JavaScript. SPAs work inside the browser and show natural behavior. Users like it because SPAs do not need additional waiting time, and directly render the web pages in the user's browser.
Now, let's go through the latest web development trends related to futuristic or emerging technologies:
13. Green Hosting
Do you care about your surroundings?
Generally, we are now well aware of climate change and would like to feel like they are assisting to reverse the effect or at least trying to decrease the impact they have on the surrounding.
No, it is not like an organic server in the forest. However, it is just a concept in which blogs and websites are hosted using an eco-friendly server that is energetic.
That is the important reason green hosting is a trend in 2020. So, most of the companies have started providing green hosting to their customers.
Moreover, it improves more recycling where relevant. Now, in 2021, the custom of cloud storage will increase.
Furthermore, it is also flexible since you can measure your storage capacity corresponding to the developing requirements. It will become the most popular and shape future web development trends.
14. Internet of Things (IoT) Will Be in Focus
As per a Statista survey, there will be almost 31 billion connected devices in 2021. This enormous growth in the number of IoT devices will also impact the web development process as enterprises tend to control these devices through a desktop or laptop.
What's more, to provide better services to customers or the general public, the integration of devices with the website is of utmost importance. Though today only a few websites have an IoT integration, it is fair to mention that the concept will remain in focus in the near future as the number of connected devices will increase gradually.
15. Blockchain Technology Will Find Its Place
Though Bitcoins have gained enough popularity throughout the year 2020, the story of blockchain technology has just begun! This technology is expected to bring radical changes to the thriving web industry.
Blockchain technology offers a safe and secure online transaction while eliminating the necessity of intermediaries. This innovative technology uses standard data storage for helping users to store data in different locations worldwide.
Blockchain facilitates banks and financial organizations to keep the customer's data safe with the help of algorithms. Therefore, the BFSI sector will integrate this technology into their system in the coming years.
16. AI and Machine Learning Will Gain Ground
Do you know that chatbots work on the concept of AI (Artificial Intelligence) and machine learning?
In the coming days, we can presume that the role of chatbots and machine learning concepts will get wider than ever in the web world.
Globally, big names including Facebook, Google, Microsoft, and Twitter are investing a large amount in both AI and machine learning. In the coming years, web developers may need to include features or functionality powered by AI. It brings radical changes in the web development domain.
17. JavaScript
Java is for developing Android mobile apps, JavaScript is for developing dynamic web apps. JavaScript has remained one of the most prevalent web development trends in 2020, and it is going to strengthen with the advent of new frameworks and rich libraries.
Higher adaptability for offering customized functions and ease of use make JavaScript frameworks a preferred choice for web developers worldwide.
JavaScript facilitates developers to build clean, robust, and more responsive websites. Closures, callbacks, are a few of the noteworthy features of this reliable framework. We can certainly expect that in the coming years, JavaScript-based frameworks or platforms will drive web development.
18. Static Website Generators
When there is a requirement of developing a static website with simple texts, web developers rely on static website generators. Such generators enable them to create static websites with user-friendly functionality. It includes faster loading, better security, and effective traffic management.
However, static websites developed by using these generators are not easy to use and less interactive for visitors. Now, this is something that needs to be addressed because people expect interactive websites these days. However, as the technology evolves, the static website generators will also improve to provide a rich and better user experience in static websites.
19. Illustration
When it comes to building a website, both web design and development go hand in hand. Illustrations, fonts, and forms are actually designed concepts. But they are useful for making websites more user-friendly and interactive. Web development companies must stay updated with this design trend.
Illustrations and other design aspects can convey the message more effectively and minimize the use of text. They can make your website more appealing and interesting. The trend of illustrations will remain the most important web development and design trends in 2021.
20. Typography
Though illustrations and animations can make the website more interactive and impressive, it is dangerous to neglect typography. Your website should be in line with your business model and typography assists it in meeting this requirement.
As we witness a rise in the number of typography collections with the advent of new letters, this trend is expected to stay for a long time. From experimenting to implementing new letters and styles, typography will continue to affect the web development domain positively.
21. Voice Search Optimization
Siri, Alexa, and Google Assistant have started replacing text-based search functionality. Yes, it is expected that almost 50 percent of search queries will be done using voice instead of text by 2021. In other words, voice search has become a major trend and it influences major search engines worldwide. As people become more comfortable with this futuristic feature, we will see development in voice search optimization.
Today, more than 55 percent of teens and over 44 percent of adults use the voice search feature daily. This fact confirms that the voice search is here to stay. Talking about the latest web development technology, the voice search feature can enhance the mobile responsiveness of your business website. As per Google's research, around 20 percent of mobile searches are based on voice.
22. Cybersecurity
This is one of the most important web development trends as we witness the growing incidences of data breaches and other cybercrimes. Concerns related to data protection loom large for IT professionals and entrepreneurs alike. Most of the major organizations are getting ready to face the wave of cyberattacks that can cripple their operations and compromise critical data. In other words, companies give top priority to cybersecurity, and the web development domain will also reflect it.
Though securing corporate data from hackers seems an uphill task, it is not impossible to achieve. We can expect significant development on this front in a short time. Many countries have already established their cyber army to tackle the issue of cyberattacks.
23. User Behavior Tracking
In layman's terms, this concept is related to the user's online behavior. It involves the study of a number of clicks, user interaction, mouse movement, and various patterns of the user's behavior. As the competition intensifies, companies strive for providing a pleasant user experience on their websites and apps. There, the concept of user behavior tracking comes into the picture.
In years to come, this approach is expected to become the most sought-after one among web developers. If you are planning to develop a business website, it is advisable to integrate user behavior tracking into your site to stay ahead of the curve. All you need to consult a reputed web development company.
Along with these major trends, we can expect a few concepts like real-time web apps, Google Map integration, image sharing, image-related improvements, minimalist design, and functional programming will gain momentum in the year 2021 and beyond.
The new web development technologies like Node.JS and Angular.js are highly advanced JavaScript frameworks. that enable the web developers to build next-gen websites and web applications.
In this blog, we have covered almost all the most important trends to watch in 2021. You can get more insight into these trends from our experienced web developers. At Solwin Infotech, we endeavor to offer enterprise-grade web solutions to our esteemed clients worldwide. Just contact us with your idea, and we will convert it into a fully functional website.
Related Posts