Freelance offers the liberty to work at any place and any project and earn the money as much as you're able to. With the expansion of the internet, it has now become easier for developers, designers, freelancers to reach their target audience simply by building a portfolio or website online. With WordPress, it becomes easier to form a website with the support of WordPress plugins for freelancers.
It is obstructive for a freelancer to be an expert in all the fields however providing quality work is obligatory and that holds credibility. A freelancer can easily start their own website to promote their work and showcase the services with the WordPress CMS. Currently, WordPress is being used in approximately 39.6% of online websites. It's the best suitable platform to start a website with the use of WordPress themes and plugins.
In order to create an ideal portfolio or website, we've clubbed the most prominent and widely available plugins that are specifically designed and created to boost or upgrade freelancing sites.
Let's check it out.

1. Portfolio Designer
As its name suggests this plugin used to create an attractive portfolio on your WordPress site. It is a single plugin that comes with unlimited possibilities. It helps to build an attractive portfolio or galleries, as well as showcase logo design and team members with visually appealing layouts.
This plugin supports 4 major layouts such as Grid, Masonry, Slider, and Justify with lots of other customization effects. Moreover, it supports YouTube, Vimeo, Daily Motion, and Metacafe videos so that a user is able to showcase the video in a popup. Additionally, it contains 50+ wonderful mouse hover effects that make your portfolio or gallery more attractive. It is an all-in-one solution plugin. Must have for every freelancer!
Cost: Portfolio Designer also available in Free Version.
Ratings: 4.6 stars
2. WP Project Manager
WP Project Manager is a plugin that gives a complete solution to a professional freelancer. It is one of the advanced project management tools particularly the WordPress site. It comes with exceptional features such as a to-do list, add tasks to junior with a specific date, comments on the individual to-do list, message functionality, file sharing feature, email notification, and so on.
Moreover, it includes real-time notifications to get updated on project activities. Generating a performance report becomes easier and hassle-free. It is a user-friendly and must-have plugin for freelancers.
Cost: WP Project Manager also available in the Pro version.
Ratings: 3.7 stars
3. Contact Form & Lead Form Elementor Builder
Contact Form & Lead Form Elementor Builder is a Contact form builder as well as a lead generator plugin. Lead Form Builder is the popular and free contact form plugin for WordPress. This wonderful plugin allows you to create beautiful forms and collects leads in your database. The plugin has all fields which are required to create a Contact form, Registration form, Newsletter, and contains Ajax-based drag & drop field ordering.
Using the Lead form builder plugin you can create unlimited contact forms for unlimited websites. You can create contact forms with 9 field types: text(name), email, URL, number, text-area (message), radio, checkbox, date, and drop-down. It also comes with Pre-built forms, you can use them for creating your own form.
With Lead Form Builder installed on your website, users can reach you via streamlined contact forms that also have reCAPTCHA integrated to secure your site. It is fully compatible with all page builders like Elementor, Brizy, SiteOrigin, Gutenburg, etc. For more features and functionality you can go with the pro version.
4. Coming Soon & Maintenance Mode
As a freelancer, you are most likely going to work on many website projects for various clients. Some projects will entail building new websites, while others fixing up already published websites. In both situations, you'll need something like Coming Soon & Maintenance Mode.
This simple yet effective plugin will enable you to create coming soon and under maintenance pages in minutes. It is very easy to use and doesn't contain any unnecessary features.
The plugin provides themes for a range of businesses that are easily customizable but also professional-looking. Along with the themes, you get 2+ million images for designing the pages. Of course, this plugin covers more than just aesthetics, so it comes with a great SEO setup, support for autoresponder, CRM, webinar, and marketing software, etc. It can also be used to create landing pages, sales pages, basically any type of page without any coding.
This plugin will not slow down any site it is installed on; in fact, it might be even faster than your current WordPress theme.
Cost: Coming Soon & Maintenance Mode is also available in a Free Version.
Ratings: 4.7 stars
5. Yoast SEO
Yoast SEO is a popular and most downloadable plugin. It helped millions of WordPress websites to upgrade their website SEO and rank in the Google search engine.
As a freelancer, whether you are a developer, content writer or copywriter, or translator, Yoast SEO is a plugin that every online site needs. It is packed with features such as advanced XML sitemaps, title & meta description templates, in-depth schema.org, full control on website breadcrumbs, and so on. Yoast SEO plugin gives you a detailed SEO analysis of your website page or post, a Readability analysis of your content that enhances the particular page SEO. It is the most useful WordPress plugin ever!
Cost: Yoast SEO also available in the Pro version.
Ratings: 4.8 stars
Useful Read: Why Buy A Premium WordPress Plugin (Is It Worth It?)
6. Avartan Slider
Slider plays an engaging way to connect visitors to your website. Avartan Slider is an effective and good solution to create an engaging slider for your website's homepage. This plugin includes unlimited slides, drag and drop builder, touch and swipe navigation, animation and transition, and so on.
Moreover, it includes the Ken Burns Effect that allows the creation of zooming animations on background images. It also supports YouTube, Vimeo, Self Hosted HTML 5 Videos, etc. This plugin is bundled with lots of useful features that make the website sliders fantastic that adds great effects.
Cost: Avartan Slider also available in Free Version.
Ratings: 4.7 stars
7. User Activity Log Pro
WordPress is a known platform and many websites have multiple users to work on the same site. For that, keeping track of all individual users' activity is quite tough. For that, User Activity Log Pro is very useful. This plugin helps to track and monitor all the logged-in user activities as well as post-page updates, theme-plugin updates, and WordPress core updates.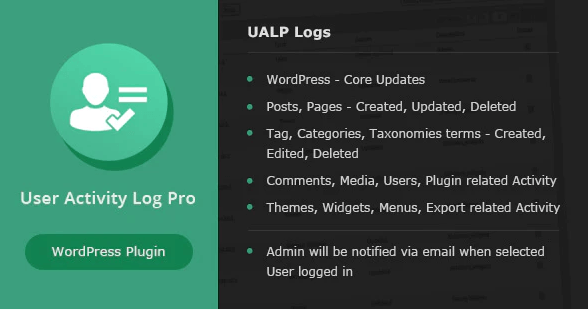 Additionally, it also helps to control users to the access of user activity log and its settings. The plugin also provides password security. The plugin provides a feature of sending email notifications to the admin when selected users logged in. It is an easy-to-use and user-friendly admin panel. Worth using it!
Cost: User Activity Log Pro also available in Free Version.
Ratings: 4.5 stars
8. WPFileo Pro
WPFileo Pro is a plugin that allows you to organize your website images effortlessly. It helps you to manage media files such as text, images, files, video, and audio. The plugin helps to create unlimited folders, sub-folders, name or rename the folders, delete or move the folder. In addition, it includes 1+7 color options to change the media library layout as per your website look.
It has a drag and drops functionality to move or arrange media library folders. The plugin is GDPR compatible and safe and secure for every WordPress website.
Cost: WPFileo Pro is available at $9.
9. WordFence
WordFence is a popular security plugin on the WordPress repository. It includes a malware scanner and endpoint firewall that protect the website from unwanted users. This plugin also has two-factor authentication available via TOTP based authenticator. It scans core files, themes & plugins for malware, SEO spam, malicious redirects, and many more.
It is easy to use and around 4 million people use its free version to secure the website. Moreover, it repairs files that change by overwriting with a pristine original version. It is free to use unlimited WordPress sites.
Cost: WordFence has a both free and premium version.
Ratings: 4.7 stars
Also Read: 10 Admin Dashboard WordPress Plugins [Enhance The Admin Area]
10. UpdraftPlus
UpdraftPlus is a popular WordPress backup plugin. This plugin provides a scheduler backup that backups your files and database easily to the cloud and restores with just one click. It backups into the cloud, google drive, Amazon S3, Updraft Vault, FTP, Google cloud storage, Rackspace Cloud, etc.
Backup is an essential part of the online business and UpdraftPlus is a good solution for it. The plugin backups all the data & restores it and also allows to set up scheduled backups. Worth using it.
Cost: UpdraftPlus has a both free and premium version.
Ratings: 4.8 stars
11. SproutInvoices
SproutInvoices is a useful plugin for creating invoices. It is packed with features like custom estimate invoice templates, notification customization, payment schedules, and many more. The tool has a client dashboard as a way to showcase or check the pending invoices when it's due. It also allows the clients for partial payments and deposits the amount of minimum balance.
It also includes a Print to PDF button to print the invoices. Moreover, it is a worthy tool for every freelancer who works with various clients.
Cost: SproutInvoices is a premium tool.
12. Editorial Calendar
Editorial Calendar is an essential plugin that helps to schedule the work. This plugin is almost used by almost every blogger or freelancer to manage their work effortlessly. It supports drag and drops functionality to arrange, edit posts right in the calendar. This plugin adds the functionality to manage the drafts with the help of a new draft drawer. Moreover, it manages multiple authors' posts as well.
It is an easy-to-use plugin for a WordPress website.
Cost: Editorial Calendar is a free plugin.
Ratings: 4.9 stars
13. Mailchimp
Mailchimp is a popular plugin that helps your visitors to subscribe to a newsletter easily. It is an email marketing service. Using this plugin, a user can create custom sign-up forms & add them to the WordPress site easily. Moreover, a user can also integrate it with any other existing plugins. It supports many useful plugins such as contact form 7, WooCommerce, WPForms, Events Manager, etc. A worthy plugin to add to the WordPress Site!
Cost: Mailchimp has a both free and premium version.
Ratings: 4.8 stars
14. Contact Form 7
As its name suggests, Contact Form 7 plugin allows adding a contact form. It is a fully free plugin for WordPress site users. A user can easily customize the content by doing simple markup. It supports Google Captcha, Akismet spam filtering, Ajax-powered submitting, and so on. This plugin comes with a ready-made template, a user needs to simply add it to the post or pages. It is a famous free plugin and already uses 5+ million people using it.
Cost: Contact Form 7 is a fully free plugin.
Ratings: 4.1 stars
15. DW Question & Answer Pro
DW Question & Answer Pro is a premium WordPress plugin that allows you to create a full-featured question & answer section on your WordPress site. A user can easily create the question-answer section like Quora, Yahoo Answers, StackOverflow, and so on. This plugin provides ajax based solution that is able to quickly search the information while adding some text on the search bar just like Google.
Moreover, this plugin contains 3 different styles like default, Flat, and Helpdesk. Also, its styles contain different color options and customize it easily as per the website look. It contains various other features that are able to enhance the Question & Answer section of the website.
Cost: DW Question & Answer Pro is a Premium plugin.
16. Rankie
Last but not the least, Rankie WordPress plugin is a useful tool to keep a close eye on your website ranking. It tracks website ranking on Google, generates reports easily. This plugin gives updates of your daily rank on Google which works as a SERP plugin. Moreover, it also includes a keyword search tool that generates lists of valuable keywords.
This plugin provides 4 different methods for locating positions on Google for keywords. It also sends a daily report on a registered mail ID with each transition details keyword. The plugin is easy to install and use on the WordPress site.
Cost: Rankie is a Premium plugin.
17. Blog Designer Pro
Blog Designer the most eminent plugin for blog designing the WordPress blog page. It is an impactful blog layout plugin that consists of 50+ blog templates that beautify the blog page, post attractively without hiring a designer. Moreover, it also helps to customize the author page, archive page, search page, and so on.
Additionally, it supports the WooCommerce plugin and comes with appealing WooCommerce layouts that allow displaying products on the blogs with pricing and detailed description. This premium plugin contains lots of customization options that are able to change the look & feel according to your choice and give it a WOW factor. It is a fully compatible plugin and multiple theme support.
Cost: Blog Designer Pro also available in Free Version.
Ratings: 4.7 stars
Final Words
Along with the lots of perks of being your own boss or working as a freelancer, you also face lots of challenges to build a strong online presence. For that, the above-mentioned plugins will help to manage and process the work easier.
As a freelancer, feel free to recommend the plugins that you are using and not in the above plugins list. Please write in the comment box below.
Read Next: WordPress Plugins: How Many Is Too Many? [The Answer Might Amaze You]
Related Posts