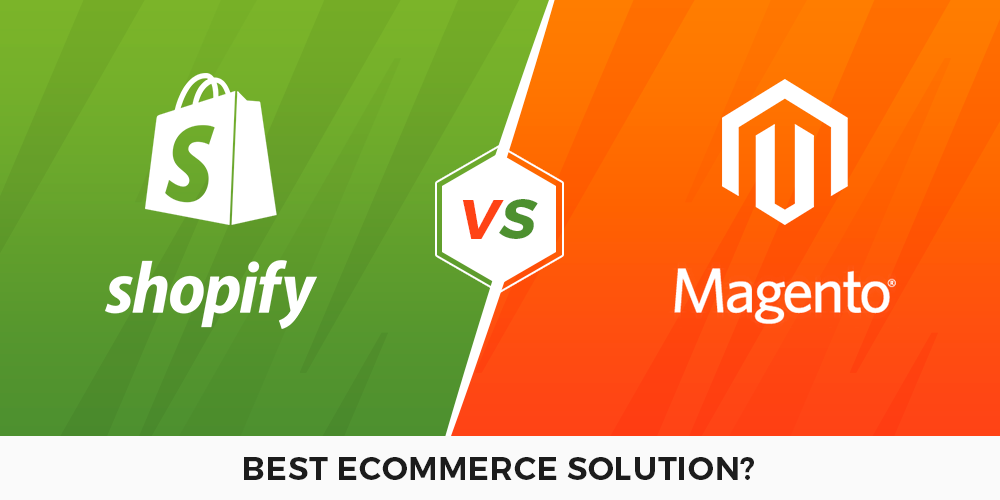 Amazon, Alibaba, and eBay have written success stories amid intensifying competition in the flourishing eCommerce sector. When it comes to mid-size eCommerce online stores, the competition is even more fierce. Only technologically advanced eCommerce companies can survive and thrive in such a scenario. Two major platforms Shopify and Magento are robust enough to build reliable and user-friendly online stores that can easily attract more people and handle more traffic at once. Here we are going to compare Shopify vs. Magento 2. And, the difference starts with the cost!
Cost – Shopify Vs Magento
Shopify has two plans of $79/month and $299/month to fit the needs of an eCommerce store that sells simple and fast-moving products ranging from fashion to cosmetics. You can choose either a basic or an advanced plan based on inventory and the number of employees that can manage the store.
Shopify is a hosted platform. In other words, it keeps you free from hosting, maintenance, and performance-related worries. Domains have different costs ranging from a few bucks to a few hundred dollars every year. Normally, you can assume you need to pay $10 – $50 for a domain. What's more, you need an appealing theme to make your store visually pleasant.
With Shopify, you have to spend $400 to $3600 for an eCommerce store and you can manage your store without writing a single line of code. Shopify can take care of every aspect to build a lovely online store.
Magento should be a choice of retailers who have many stores or brands to handle. If you want to sell more complicated products or to improve customer experience along with a huge inventory, you should go for the Magento Open Source platform. This platform is free-to-use and everyone can download it with ease.
Like Shopify, Magento is also a self-hosted platform, and therefore, you need to pay for hosting. It depends on the number of products and daily visitors to your website. This keeps the hosting cost fluctuating. It can be as cheap as $15 a month as well. A medium-sized eCommerce business needs to pay around $200-$300 a month as a hosting cost. Domain cost remains the same for Magento and Shopify.
When we compare Shopify vs Magento, one thing is certain- Magento is not as friendly as Shopify. It needs coding skills and knowledge to control the store at a medium level. If you have domain knowledge with coding skills or your company has a team of developers, then Magento OS is a preferable choice. You can also hire Magento developers to build a flawless and attractive eCommerce store. The rate of Magento developers also varies a lot and it ranges from $20/hour to $200/hour.
Tip: It is better to hire Magento developers from a reputed Magento development company based in India. You can get the job done with the same quality as it is from a US-based company. You can get it at very reasonable rates as compared to the US or EU-based development agency.
Functionality – Shopify vs. Magento
The user who has a login in both Magento and Shopify-based stores can easily tell that Magento has richer core functionality than Shopify. The reason is simple- Magento is more complicated and much more suited than Shopify to retailers who have complex business needs. Product management of Magento is robust and you can easily manage customer segmentation, discounts, promotions, and merchandising in Magento. Attribute management is a strength of Magento.
Shopify, on the other hand, also has excellent features like discount management, customer management, etc. But, Shopify is more preferable for the retailers who sell simple products. In other words, the core functionality of Shopify is weaker as compared to Magento.
Shopify offers two types of products- Simple and Configurable. Both these types are highly suitable for the sellers of standard products. For example, fashion retailers and art store owners sell simple products. These products have limited choices and they need just a few configurations to help the niche customers select the product of their choice.
Magento OS edition has six types of products- Simple, configurable, group, bundled, downloadable, and virtual products. It makes the platform too complicated to control. Magento has complex settings and it needs the help of a certified Magento developer to build and manage your store.
Also, in the battle of Shopify vs. Magento, the later has a slight upper hand in terms of inventory and order management. Magento provides better customizable solutions as compared to Shopify. Though Shopify offers tag and meta fields, it is difficult for this platform to compete against the robustness of Magento OS.
It is better to consider various aspects before selecting the most suitable platform for your business. You can also consult a reliable eCommerce web development company to get more ideas on which is the right platform for building your online business shop.
In brief, when your store has simple products and you have no resources with technical expertise, you should go with Shopify. Or else, Magento OS is the right choice for your online store development. For example, if you deal with industrial machines, IT products, or anything related to the engineering sector, Magento can easily meet your needs. Also, if you have more than two online stores and your product list has more than 4000 SKUs, then Magento can certainly serve your purpose.
Related Reading- How to Optimize Magento UX for Ecommerce Store (10 Best Ways)
Multi-store Management – Shopify vs. Magento
In a challenging eCommerce sector, multiple stores can contribute significantly to stay ahead of the curve. When we compare Shopify vs. Magento, it is fair to mention that Magento 2 has better multi-store management ability. Here, multiple store management includes various online storefronts, different warehouses, and of course different products along with different domains.
Shopify is not much suitable for multi-store management. But it has the ability to establish a multi-store. However, it is not possible to manage the stores in a single interface in Shopify. You need to create a new account and buy a new plan. You need to pay for Shopify apps as well. Once you have done this, you need to duplicate all the settings along with the product list.
In Shopify, each store has a unique product list. Simply put, in Shopify, if you want to opt for a multi-store or multi-brand business, you need to pay more and work on different interfaces with the more complicated management process.
You can share the product catalog across websites and store views. The attribute feature enables you to set the product attribute at different levels from 'global' to 'store view'. It makes really easy for the user to have the same products on multiple websites with different price.
What's more, Magento enables you to manage multiple brands in a single Magento interface. You need not pay additionally for hosting for having multiple Magento stores. It is cost-effective for retailers.
Themes, Integrations and Much More
Shopify and Magento are the same in these aspects. Both platforms offer a well-established marketplace to the third party for developing themes, templates, apps, and extensions.
Both Magento and Shopify have a wide variety of themes and templates to give your store a look as per your business model and product range. You can easily change the look and feel of your online shop with free or paid themes. Themes are customizable and easy-to-use.
Shopify has proprietary themes, so customization options are limited on this platform. But on Magento 2, there is room for full customization of themes. As a result, you can set a unique store for improved branding. A Shopify theme with necessary features can cost you around $140 to $160, whereas, Magento theme can be purchased for less than $100.
Talking about apps, Shopify has 2500+ apps in the app store. The Magento marketplace has more than 2100 extensions for Magento 2 version. You can classify extensions and apps into marketing, sales, SEO, and the like. Both apps and extensions can be installed easily without writing a single line of code in your online store. With just a few clicks, you can improve your store's functionality and make it more advanced thanks to extensions and apps.
Here, you need to keep in mind that most of the paid apps on Shopify have a monthly package. And almost 90% of paid extensions on the Magento marketplace have an annual package. Last but not least, as both these platforms are leaders in the eCommerce domain, they provide a facility to integrate the enterprise-friendly, popular third-party systems like ERPs, shipping, and payment gateways.
Tip: It is advisable to choose a mobile-friendly theme to get the advantage of mCommerce. As more people tend to find and purchase products using their smart devices on the move, you can readily address a huge audience by keeping your Shopify or Magento store responsive.
Payment Gateway Integration – Shopify vs Magento
Here, Shopify has an advantage over Magento with more than 70 built-in payment gateway options. Shopify charges from 0.5% to 2% depending on the plan when your clients use external payment gateways. Shopify's own payment gateway Shopify Payments is also included on the website. Additionally, Shopify does not charge transaction fees when your customers select it for payment.
Magento also comes with all popular payment gateways like PayPal and Braintree. Though Magento Commerce edition has more built-in gateways than Magento OS, they are still less than Shopify. You can use third-party extensions for facilitating online payment in your Magento store.
SEO-friendliness – Shopify Vs Magento
Shopify has built-in tools and extensions for SEO practices. It offers robust SEO options like editing meta tags, customize titles, and auto-generation of sitemap.xml. But still, Shopify is a hosted platform and its nature somewhat restricts SEO-friendliness. The default features of Shopify are unable to make the URL structure and hierarchy and other advanced SEO techniques.
Magento 2 is more flexible from an SEO viewpoint. It is a self-hosted platform with open-source nature. These characteristics make it SEO-friendly. Magento 2 has many SEO functionalities like meta tags, image optimization, editing of robot.txt files, canonical tags, and the like. You can easily tweak your Magento store to get the optimum result and more traffic by implementing SEO practices.
Support & Community – Shopify Vs Magento
Shopify offers excellent client support on a 24/7 basis. It has no match with that of Magento. You can get support instantly through phone, live chat, and email in Shopify. Magento does not offer 24/7 phone support. But, Magento 2 users can get support from a growing community of enthusiastic Magento developers. The Magento community has answered almost every question to date.
Also Read: Why Magento Is The Best Platform For Omnichannel Retail?
Quick Stats- Shopify vs. Magento
Here are the numbers or quick facts for Shopify vs Magento.
| List of facts | Magento | Shopify |
| --- | --- | --- |
| Number of Sites Powered | 250,000 | 600,000 |
| Number of Apps and Add Ons | 3,000 | 2,400 |
| Number of Themes | 12* | 100+* |
| Theme Prices | $0 – $499 | $0 – $180 |
Conclusion
Both platforms have their advantages and disadvantages. Therefore, it remains a purely situation-based decision to select between Shopify vs Magento. For example, you can choose the right one for your business on the basis of business strategy, product list, size of business, and available resources to manage the online store. For small to mid-size eCommerce businesses, both Shopify and Magento open-source platforms are good.
However, Shopify is more friendly and easy to use. So, you do not have to hire a tech team or specialist to manage a Shopify store. If you have standard products with one or two storefronts, and a medium-size product list, then Shopify can be the right choice for your business. The monthly expenses for Shopify along with the paid add-ons are within the reach of small and mid-size businesses.
But, if you have many products with multi-store or multi-brand operations and a huge amount of users, then Magento open source should be your choice. It is a free-to-use but very powerful platform. Though it is difficult to learn and operate, once you are getting used to the Magento Open Source framework. And you can avail yourself of endless customization possibilities along with full control over your Magento website.
Solwin Infotech is a renowned eCommerce development company. We have developed many Magento 2 extensions to boost your existing Magento 2 store. We can also build a seamlessly-performing online Magento shop using cutting-edge tools at reasonable rates. Send us your business requirements at info@solwininfotech.com and our expert consultants will contact you soon.
Related Posts